No matter how hard you work on your writing, there is no substitute for a second pair of eyes. I can help you identify where your argument is missing a step, catch the last few errors, and make your punctuation, capitalization, and style consistent so that your writing is as clear and professional as possible.
What can an editor do for you?
Suggest improvements to strengthen the flow of your story or argument
Identify places where the phrasing is unclear and suggest an alternative
Catch embarrassing typos and spelling mistakes
Edit spelling, capitalization, hyphenation, punctuation, and layout to be consistent within the document and to conform to the appropriate style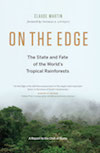 Looking for an editor?
Just browsing?
Check out my
resources for writers and editors
or browse the
blog
.