Testimonials
Like many authors I felt uneasy that an editor might turn my manuscript into something I would not recognize anymore. It did not take much for me to realize that Eva worked with great efficiency and a very fine sense for the essence of what I had written. Throughout the intensive editing process Eva never stopped amazing me with her accuracy and speed. She was wonderful to work with and I have learnt a great deal from her, how to present a complex subject in a way that can be understood by a broader readership.
Claude Martin, author of On the Edge: The State and Fate of the World's Tropical Rainforests, Greystone Books
---
Eva more than satisfied all my expectations of a copy editor: timeliness, meticulousness, knowledgeable . . . and a wry sense of humour, apt for a wordsmith. The book she helped me on had tight demands: successive proofs had to be turned around quickly; and utter perfection was expected . . . and delivered. I wouldn't hesitate for a moment to call on Eva again.
Gareth Sirotnik, production editor of West Coast Reduction Ltd.: West Coast at Work 50 Years On
---

I found Eva's name on the Editors' Association of Canada website and she helped me by taking on a tricky project with a very short timeline. Throughout the project she communicated effectively with the author and myself and delivered the manuscript on time, with issues thoroughly considered and queries resolved.
Since then she's worked on a number of Figure 1 projects as a copy editor and proofreader. I recommend Eva to anyone; she is friendly and professional in every way, in short, a joy to work with.
Lara Smith, managing editor at Figure 1 Publishing
---
I was very pleased with the friendly professionalism with which Eva van Emden copy edited Wild Places: The Adventures of an Exploration Geologist. She displayed sound judgment on large matters, a keen eye for the smallest details and a willingness to answer follow-up questions. I highly recommend her work without reservation.
Harold Linder, author of Wild Places: The Adventures of an Exploration Geologist
---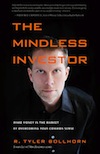 I found you easy to work with and the editing you did was excellent, certainly improving the quality of the book. I appreciate your extra effort to deliver your service on time with deadlines looming. Overall, I recommend your services without hesitation!
Tyler Bollhorn, author of The Mindless Investor